Song of Earth – Dance of Heaven
Open your heart through singing, hiking and meditation
Roshan Priese and Javid Lieb
Cala Jami (Sardinia)
2023, June 4 – 10
Beginning: evening dinner and introduction to the week at 6:30 p.m. on Sunday, June 4.
End: morning session after breakfast on Saturday, June 10.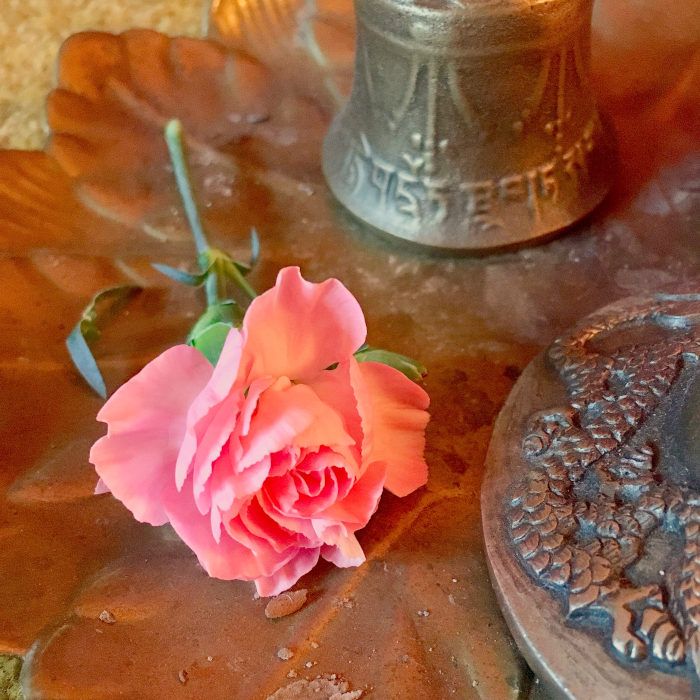 Music is the language of beauty, the language of the universe.


Music is the

closest, the nearest way to God.
Hazrat Inayat Khan
Together with Roshan and Javid, we experience in wonderful places how the heart opens through singing and meditation and how the soul rejoices.
Heart songs from different traditions, mantric invocation of the "beautiful names of God" through zikr, the rhythmic body prayer of the Sufis, simple circle dances and deep meditation.
Both feet on the ground, the voice of the heart rising upwards – taking you into the blue sky.

We will go for nature walks in breathtaking, unspoiled landscape, we will sing at special places, e.g. ancient megalithic sites and churches where our voices will resonate beautifully, and go swimming on beautiful beaches.
You don't need to be experienced in singing or in meditation. Everybody is welcome.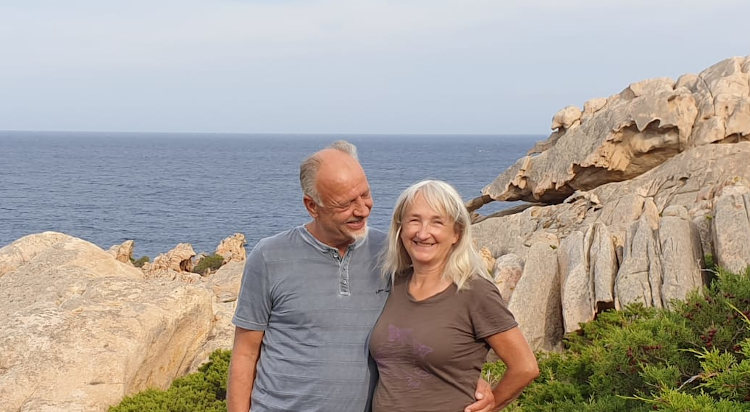 Roshan and Javid love hiking, singing and meditating together in Sardinia where they live.

Roshan sings and plays guitar since she was a teenager and has taught meditation for more than 30 years. As a hiking guide she knows beautiful paths in Sardinia. She is an active guide and retreat guide in the Inayatiyya. If not all participants speak the same language, Roshan will translate while guiding her meditation sessions. She speaks fluent English, Italian and German. Usually, translation into one other language is sufficient. Experience has shown that this does not take much time and does not interfere with the participants' attunement.
If you have any questions, contact Roshan through our contact form.
Javid is one of the representatives in the Inayatiyya and has been trained in the raphaelite-work. He is a passionate lover of water and drinking water improvement (www.heimquell.com). "Singing changes the information in your body liquids. Joyful singing increases your vibrational field in a very natural way."    javid"at"calajami.eu
Seminar fee 370 €.
Full board: high quality, vegetarian Euro 35, – per day, snacks and beverage included.
Accommodation: Euro 15,00 to 50,00 per day and person, depending on type of accommodation and if used as single or double. Available: tent (standard size or bigger ones), caravan, wooden cabin, comfortable rooms, sofa in living area, mattress in meditation area.
Travel costs not included. Please organize your journey to Sardinia yourself. Next airport and train station is Olbia, next harbors Olbia and Golfo Aranci.
Pick up at the airport, train station or harbor of Olbia or Golfo Aranci: Euro 15,00 per person / Euro 10,00 if more than one person per ride. You can choose to take the bus instead, we will provide more details on request once you have registered.
Other airports and harbors in Sardinia: Alghero and Cagliari (airports), Porto Torres and Cagliari (harbors). From there, by public transport it takes up to 5 hours to reach Olbia where we can pick you up.
You wish to register or have a question? Please use our contact form:
Location:
Sufi Earth Spirit / Cala Jami
Via Paluneddu N. 1
07026 San Pantaleo di Olbia (SS)
Sardinia / Italy