From self-love to All-Love
With Roshan Priese

Cala Jami (Sardinia)
Seminar fee on a donation basis
2023, June 18 – 24
Beginning: evening dinner and introduction to the week at 6:30 p.m. on Sunday, June 18.
End: morning session after breakfast on Saturday, June 24.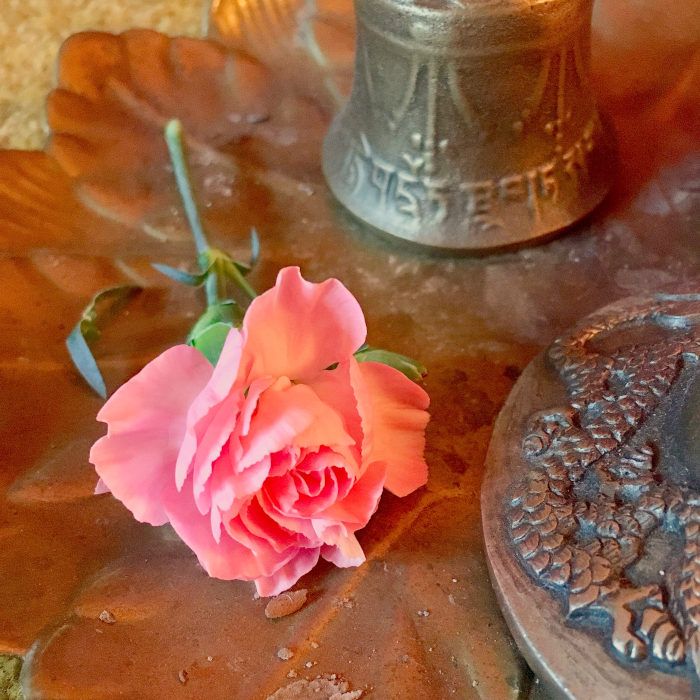 The important thing is not to think much,
but to love much;
and so, do that which best stirs you to love.
Saint Teresa of Avila
Dive deep into the inner ocean of light and love.
Empty your cup,
so that the One, the Host,
may fill it with the nectar
that redeems all.

Be with what is. Give space. Allow the heart to open.
The sun of love shines unconditionally. The first being that bathes in its golden rays is your own being.
Roshan weaves emotional work into her clear, poetic meditations. In the afternoon there will be space for relaxation and for individual sessions with Roshan, personal guidance as well as emotional work if requested. Roshan is experienced in the "Keys to the Heart" method developed by Safi Nidiaye, a simple and effective way of releasing suppressed emotions.
We'll be mostly outdoors in the magnificent unspoiled nature, with lots of opportunities to relax on beautiful beaches and enjoy the warm Mediteranean sea.
Early in the morning on solstice day, we will drive to the beach and salute the sun as it rises above the sea. After breakfast we will go on an excursion to an ancient sun cult place in the surroundings.
No previous knowledge is required, everybody is welcome.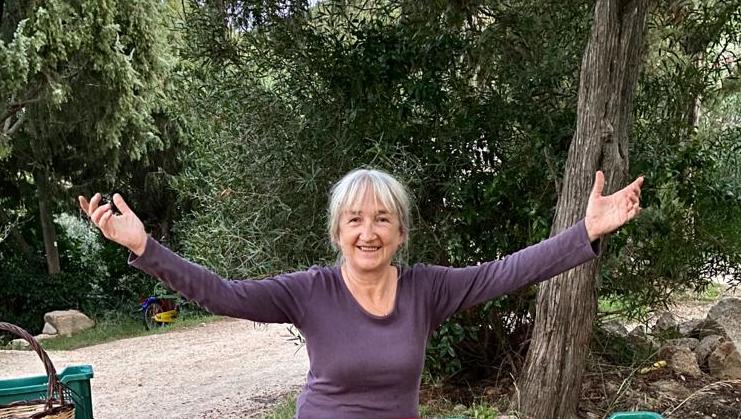 Roshan, founder of Cala Jami, has taught meditation for 30 years. In the Inayatiyya, she is active as guide und retreat guide. She went through many years of intense trainings with several spiritual teachers, especially the Sufi teachers Pir Vilayat Inayat Khan, Pir Zia Inayat Khan, Munir Voss and Safi Nidiaye.
If not all participants speak the same language, Roshan will translate while guiding meditation sessions. She speaks fluent English, Italian and German. Usually, translation into one other language is sufficient. Experience has shown that this does not take much time and does not interfere with the participants' attunement.
If you have any questions, contact Roshan through our contact form.
Seminar fee on donation basis.
Full board: high quality, vegetarian, snacks and beverage included, Euro 35, – per day.
Accommodation: Euro 15,00 to 50,00 per day and person, depending on type of accommodation and if used as single or double. Available: tent (standard size or bigger ones), caravan, wooden cabin, comfortable rooms.
Travel costs not included. Please organize your journey to Sardinia yourself. Next airport and train station is Olbia, next harbors Olbia and Golfo Aranci.
Pick up at the airport, train station or harbor of Olbia or Golfo Aranci: Euro 15,00 per person / Euro 10,00 if more than one person per ride. You can choose to take the bus instead, we will provide more details when you register.
Other airports and harbors in Sardinia: Alghero and Cagliari (airports), Porto Torres and Cagliari (harbors). From there, by public transport it takes up to 5 hours to reach Olbia where we can pick you up.
You wish to register or have a question? Please use our contact form:
Location:
Sufi Earth Spirit / Cala Jami
Via Paluneddu N. 1
07026 San Pantaleo di Olbia (SS)
Sardinia / Italy